Net Art 2.0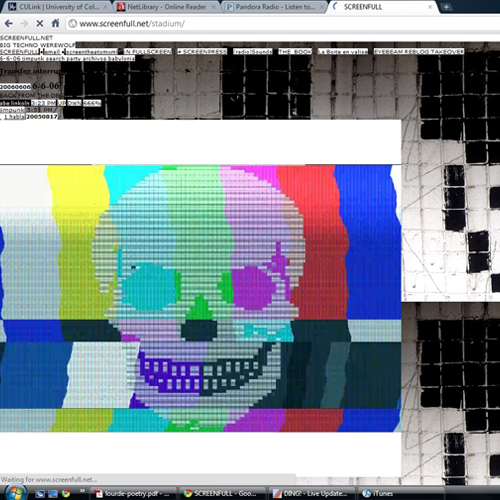 "What does it mean it mean to be a new media artist today?"
This is perhaps the most important question we want to ask ourselves when starting a discussion on Net art.
In the beginning, say, around 1995, there was something called Net art. No one knew what it was or what it would become. Wild experimentation was happening within a core group of internationally connected artists and writers, most of whom had never met each other, but who were able to simultaneously and continuously collaborate on various networking projects over the Internet.
One of the key compositional methods that initially emerged on the Net was multimedia and code remix art. In 1996, writing for the German-language online art journal Telepolis, remixthebook author Mark Amerika published one of his Amerika Online columns entitled "Surf-Sample-Manipulate: The Pseudo-Autobiography of A Work-In-Progress." In this early and very influential column, Amerika wrote
The strategy of "surf-sample-manipulate" (i.e., to surf the culture, sample data and then change that data to meet the specific needs of the narrative) works on two fronts: one, the so-called "creative content," that is, the text, images, music, and graphics are many times sampled from other sources and digitally-manipulated so that they become "original" constructions that are immediately imported into the storyworld as supplementary data and, two: the so-called "source code" itself is many times appropriated from other designs floating around the Net and eventually integrated into the screen's behind-the-scenes compositional structure. The great thing about the Net is that if you see something you like, whether that be "content" or "source code," many times you can just download the entire document and manipulate it to your needs. In fact, it wouldn't be entirely suspect to suggest that "content" and "source code" are one and the same thing, since as far as the Web goes, one cannot simply exist without the other.
Amerika's sensibility resonates with scholars like Lev Manovich and Bernard Shütze who, writing in Vague Terrain, has suggested that
To remix is a process: it is an activity, to be deployed as a verb and not a noun. In remixing, one acts upon existing cultural materials pilfered from the vast landfills of the already mixed and mediated landscape. Remix actively negates claims of originality and origin, and equally does not aspire to any finality or final work. By the very logic of the process, any remixed material can itself be submitted to further reworkings in the heap. This jumbling, sampling, splicing, recombinant activity is based on ideals of impurity – a state in which there is neither any "pure" original content at the beginning, nor any "pure product" down the line. Trace elements always abound. The remix embraces and celebrates hybridity and contamination.
At the turn of the century, a mere half a decade after the sudden appearance of Net art and the growing digital practice of surf-sample-manipulate, yet another new beginning or Internet art upgrade was already forming. Amerika referred to this second beginning as Net Art 2.0 and, delivering a keynote presentations at the Transmediale in Berlin suggested that
The early Net artists were, in many ways, ahead of their time (or as Cocteau might have said, "would appear to be ahead of their time, for it is really the time that is behind the work."). But now that has all changed. Net Art 2.0 like Web 2.0 is embedded in the practices and rituals of everyday life. You can't be a Net artist today without taking into account where the impetus for turning the net into an artistic instrument came from. That means that early Net art history anticipated the socially interconnected "second lives" of the new generation of Net artists for whom the digital is but an extension of their body's functionality as it navigates the network culture.

As Baudrillard reminds us, "[t]he image no longer even has time to become an image."

Perhaps we could say Net art 1.0 never had enough time to become Net art 1.0 but that Net Art 2.0 is more in sync with its time. This may be the reason why so much of the art work being created by next generation Net artists is less avant (ahead of its time) and more pop (in its time).
The emergence of contemporary remix artists experimenting with Net art 2.0 protocols include  MTAA, Rick Silva (aka Abe Lincoln), Jim Punk, Mr. Tamale, and Kutiman.
Artists such as MTAA created an artwork with a simple diagram entitled "Simple Net Art Diagram":
This was soon remixed by Abe Linkoln as "Complex Net Art Diagram":
Lincoln, that is to say Rick Silva, who has postproduced a few of the video remixes featured on the remixthebook.com website, first came into the Net art spotlight with his collaboration with jimpunk on Screenfull.net. Writing for the arts journal Real Time, Australian artist and theorist Melinda Rackham, discusses this Net 2.0 remix art:
Our protagonists are artists jimpunk and Abe Linkoln — personas who both draw on iconic associations with disparate and powerful US cultural historic and animated figures. Together their strength is in working across the history of networked art, design, aesthetics and theory in this remix of the phenomenal blogging paradigm. The latest manifestation of Screenfull.net is grounded in psychedelia and code work, with the seedy cycling and stuttering of a background colour change JavaScript, producing an atmosphere akin to flashing broken neon of a 1970's night club. It completely refreshes with mashed media formats — TV grabs, print posters, Paris Hilton, Flash animation, in-process Photoshop files of art historical imagery, and QuickTimes.
Silva's collaboration with jimpunk on Screenfull.net earned him the top Graduate Research award at the University of Colorado. Usually reserved for PhD-pursuing "rocket scientists," Silva was presented the award by the Chancellor of the university at a formal ceremony in front of friends, family, and many colleagues at the university. Later, Silva, jimpunk and Mr. Tamale collaborated on a commission with Turbulence entitled Disco-nnect.
Israeli artist and producer Kutiman became an overnight Internet sensation with his inadvertent work of Net art, "Thru-You." Thru-You turns the social media video site YouTube into a rich resource of live performance clips that are then downloaded and remixed into an original conceptual video-art album that takes the "found sound" collage aesthetic normally reserved for avant-garde composers like John Oswald of Plunderphonics underground fame, and makes it part of the Web 2.0 mainstream. The pop art piece has attracted over ten million (no, that's not a typo) visitors to his Web site. When asked what he planned on doing next, Kutiman, who has since created larger, more mainstream art projects, was quoted as saying "social things."
An Exercise in Net Art 2.0:
Questions for discussion:
1) What are the material conditions for the evolution of Net Art 2.0 and beyond?
2) Some might say that emerging forms of online social networking are more concerned with communication per se and that they enable Web 2.0 practices which facilitate interactive information sharing, interoperability, user-centered design, and collaboration on the World Wide Web. But if this is the case, then what does that have to do with art in general and how does it relate to the early (1.0) history of Net art practice?
3) How does interactivity in Net Art 2.0 differ from the user/art interactivity that takes place in reading, viewing a painting, or listening to music?
4) Is it really necessary to make distinctions between Internet and web and Net art or to further divide those who work primarily in networked environments from those work in more traditional media or who, say, perform live A/V sets or actively turn their VJ performance art into an emergent form of digital cinema?
5) What role does so-called "Internet-aware art," that is, primarily object-based art that is still principally designed for gallery culture but that has as its subject matter themes associated with Internet culture, play in our understanding of Net Art 2.0?
Bonus philosophical questions:
In remixthebook, Amerika asks his readers "How does the creative potential we all have within ourselves to invent role-playing, fictional personae performing in social networking spaces, inform the development of Net art 2.0 practices?"
Is it possible to script a conceptual art practice that morphs into an ongoing, online performance that blurs the distinction between art and life?
How would you identify yourself as an artist if you intentionally left the museum and gallery art-world culture behind and devoted all of your time and creative energy to the continual invention and remixing of your online personae?
Two bonus quotes ready for sampling and remixing, and a question:
"I had a marvelous art-making machine, my personas. I never knew where it would go." — Eleanor Antin
"There isn't one me. There aren't ten mes. There is no me. ME is only a position of equilibrium. An average of 'mes,' a movement in the crowd."
If there is no you, and remixing an ongoing set multiple and hybridized personae could, in fact, help you create an art-making machine, what possible use of prevailing forms of social media would enable you to create an alternative model of "success" for the contemporary Net 2.0 artist?