Amaranth Borsuk has a Ph.D. in Literature and Creative Writing from the University of Southern California and is currently Mellon Postdoctoral Fellow in the Humanities at MIT, where she teaches and works at the intersection of print and digital media. This fall, she will join the faculty of Interdisciplinary Arts and Sciences at the University of Washington Bothell. Her poems, collaborations, translations, and reviews have recently appeared or are forthcoming in Aufgabe, The Destroyer, The Offending Adam, Lana Turner: A Journal of Poetry and Opinion, and The Society for Curious Thought, among other journals. Another topic of great interest to her is the use of pervasive data (like Amerika's "source material everywhere") by conceptual and digital poets, a theme she wrote about in an essay for the Journal of Electronic Publishing this fall. You can learn more about her writing and teaching at www.amaranthborsuk.com.
---
Rebooking the Mix
I have been thinking about ways to remix the book for some time—as a scholar of 20th and 21st century poetry and poetics and as a poet and book artist. Appropriation and remixing enter into nearly all of my projects to date: from Tonal Saw (The Song Cave, 2010), an erasure from the religious tract National Sunday Law; to Handiwork (Slope editions, 2012), a book of poems that includes writings-through of my grandmother's unpublished short stories; to the forthcoming Abra, a collaboration with Kate Durbin in which readers will be invited to remix the words of our conjoined poems (which deal with excess—of sound, of self, of sense), swirling the helix of language through an app that enacts the mutation inherent in the work. (As an aside, the quotations from Elizabeth Grosz on creativity, sexuality, and excess in remixthebook are particularly relevant to this last project, and I'm grateful to have discovered them there.)
However, given this opportunity to take part in the remixthebook dialogue, I'd like to foreground another kind of remixing that has preoccupied me (I feel I have, in fact, been occupied by it such that I see its face in every face I meet) for just as long. I take Mark Amerika's title as a provocation and invitation to remix our notions of "the book," an object whose form and function have been in flux since people began writing narratives down instead of memorizing and reciting them in the sort of immersive theatrical spectacle any good story enacts. Just as remixthebook re-envisions scholarly publication by hybridizing print and multi-media art (sound, video and text), the single author and a cavalcade of collaborators, my goal this week is to highlight the work of thinkers and makers who are actively remixing the book as object and idea. If a remix is "a reworked version, a revamp, a remake" (according to the OED), then these are works that take part in a long process of reworking the structures through which writing is disseminated, from stone tablets, to scrolls, to codex books and electrophoretic ink screens.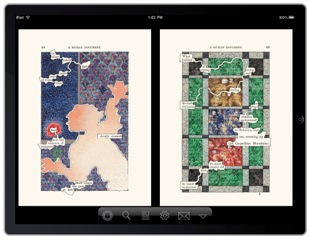 Tom Phillips, A Humument App, 2011
These shifts, occasioned not only by changes in technology, but also by changing ideas about intellectual property and authorship, show no sign of stopping, despite a widespread sentiment that the "book" is, and has always been, a sheaf of signatures sandwiched between covers or stitched to boards. Of course even codex books didn't always come to us bound, but rather were transformed according to the whims (and finances) of the book's buyer. While many bemoan the loss of the book object in the face of Kindles, Nooks, iPads, and Google Books, still others believe POD publishing will glut the world with reams of unread (and possibly unreadable) text (see this article from today's New York Times on tweens publishing their first books with the help of Mom and Dad). Walter Benjamin seems to have foreseen this moment when he wrote in 1931 that the rise of newspapers and the press had leveled out the hierarchy of literature such that "at any moment, the reader is ready to become a writer" ("Work of Art" essay, second version, trans. Jephcott and Zohn). One might make the argument that the book is merely a vehicle for conveying text that gets redesigned as our tastes change (leather or cloth? SUV or Prius?). Such an argument, however, treats as transparent a structure that in fact shapes, and is shaped by, our reading and writing practices.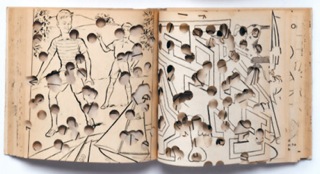 Dieter Roth, bok 3 d, 1961
I exercised some of my own concerns about the place of books as objects in the 21st century in Between Page and Screen, a book of augmented-reality poems created with programmer Brad Bouse (Siglio Press, 2012). The poems, a series of letters between P and S, two lovers mapping the boundaries of their relationship, take the etymologies of "page" and "screen" as a source of innuendo and wordplay that showcases the terms' commonalities and differences. This project places the poems squarely between print and the digital: one must have both the book object (with its illegible geometric prints) and a computer with a webcam (which confronts the reader with only her own image) in order to access the poems, which leap off the page in your hands once the two technologies meet.
I have had the opportunity to think about the place of books more thoroughly in the process of putting together a symposium at MIT with fellow Mellon Postdoc Unbound: Speculations on the Future of the Book. Our symposium asks whether, as some fear, books have reached the end of their efficiency as a means of disseminating information or whether they are simply shapeshifting to accommodate the features readers, scholars, and artists want from them.

Jonathan Safran Foer, Tree of Codes, 2010
We have invited a range of thinkers and practitioners to weigh in on where books have come from and where they might be going, from a number of angles that include print history and the archive, book arts and book conservation, changes in scholarly publishing and collaboration, and literature in new media and performance. Among our featured speakers is Bonnie Mak (UIUC), whose How the Page Matters considers the page as an interface by examining a 15th-century Latin text in manuscript, print, and digital forms to see what each encodes about the work's creation and transmission. She will be in conversation with bookbinder James Reid-Cunningham, whose work straddles digital programming for the Boston Athenaeum and preservation of specimens from their extensive book collection. We will also hear from Kate Hayles (Duke), whose writings on media-specific analysis and the relationship between artist's books and electronic literature provide a useful starting-point in thinking about the material form of even the most seemingly ephemeral works; as well as from Rita Raley (UCSB), who has written extensively on locative media and interactive art and text.
We will also hear from Bob Stein, founder of the Institute for the Future of the Book, who is revolutionizing publishing and reading with his Social Book platform:
and poet and visual artist Christian Bök, whose latest project involves encoding poetry into bacterial DNA, which will produce new poems in response:
This reading is not from the aforementioned work, The Xenotext Experiment, but as part of the Toronto series "The End of the Internet" seems a fitting corollary to concerns about the end of print.
Ultimately, the conference seeks to generate dialogue about the changing shape of books. We hope there will be debate, even argument. Perhaps some flyting if that's not too old fashioned.
And this week, as I tweet for @remixthebook, I will be trying to jumpstart the conversation by posting links to the work of artists, writers, and publishers who are actively remixing the book by presenting text to us in forms that challenge our definitions of bookishness and encourage us to consider what we love about books, what we hate about them, what sort of tricks we might put them up to, and above all why.